Fire Safety Manager wins 'Bright Light Award'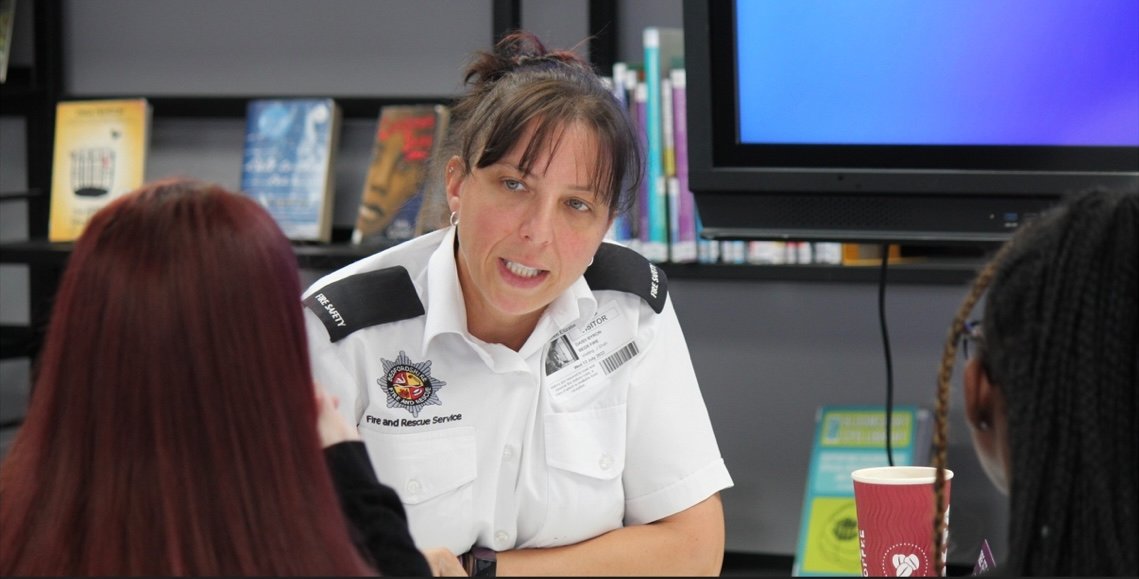 Daisy Byron, one of our Area Fire Safety Managers has been named 'Bright Light Award' winner in the Women in the Fire Service Awards 2023.
Daisy, who joined the Service in 2019, was nominated twice in the WFS Award's 'Bright Light' category for her remarkable contributions to the Fire Service.
The 'Bright Light' category recognises individuals who have made a notable contribution in supporting the aims of Women in the Fire Service (WFS) and led the way in their role in the service, acting as a shining example to others through recruitment, retention or progression of women or enabled women to develop through access to opportunities and resources.
About Daisy
Daisy has been a WFS Regional Rep since June 2022, supporting and promoting the aims and values of WFS on a voluntary basis. Since taking on the role, Daisy has organised a number of WFS regional events including camping, walks and picnics to help build community networks and celebrate women in the fire and rescue service. In April this year, she will lead a WFS hike to the top of Snowdon, the highest mountain in Wales. Daisy was described as "being an all-round star", being "approachable, bubbly" and "going above and beyond" to help and look after her colleagues.
Daisy received two nominations one from BFRS Fire Officer, Lorraine Moore, who said:
"Daisy loved her role as an operational firefighter but had to redeploy due to medical reasons joining the protection team. She hasn't let this beat her, and since transferring to Bedfordshire, is now the Fire Safety Manager for the South of the County. She attended a WFS training and development event where she dived into the Eastern Regional Rep position. Two days after taking on the role of Regional Rep she had already set up a WFS Eastern Region Facebook community page which now has over 100 members.
"Following a chance post on the WFS Facebook page to say she was planning on climbing Mount Snowdon, and asking if anyone would like to join, the response has been huge. What started as a few women has grown to over 140 people from different Fire and Rescue Services, different departments and different fitness levels and abilities. Daisy has now booked up most bunkhouses in the area! On World Menopause Day Daisy helped me run an event that we'd set up in person and online. Daisy's Mum has also helped by making WFS flags to use at events."
Assistant Chief Fire Officer, Alison Kibblewhite at Bedfordshire Fire and Rescue Service (BFRS) said:
"On behalf of the Service we are hugely proud of Daisy and she richly deserves the award. Daisy attended last year's Women In the Fire Service weekend and was inspired to take up the position as the East of England Region WFS lead. She has put on a number of events to date including an amazing adventure for over 130 women from across the UK Fire and Rescue Services and police colleagues to climb Snowdon in April 2023. Her energy and enthusiasm is legendary and she inspires everyone she meets. She's a real credit to our Service and such a great person to be around. I know she inspires and helps others on a daily basis whilst being very humble about it. Huge congratulations to her."
Speaking on the notification of her award, Daisy said:
"Winning this award was a real surprise. I don't do what I do for recognition. Becoming the WFS Rep was an off the cuff, shoot from the hip comment last year that has taken off brilliantly. Reading the two nominations was heart-warming and I was taken aback by the very kind words that were written about me. I hope I can continue to support this network and my new friends in whatever capacity that may be. Thank you. I wouldn't be doing what I do, without the support from my family, friends, colleagues and the Fire Service."