Find out when your local Fire Station Open Day is!!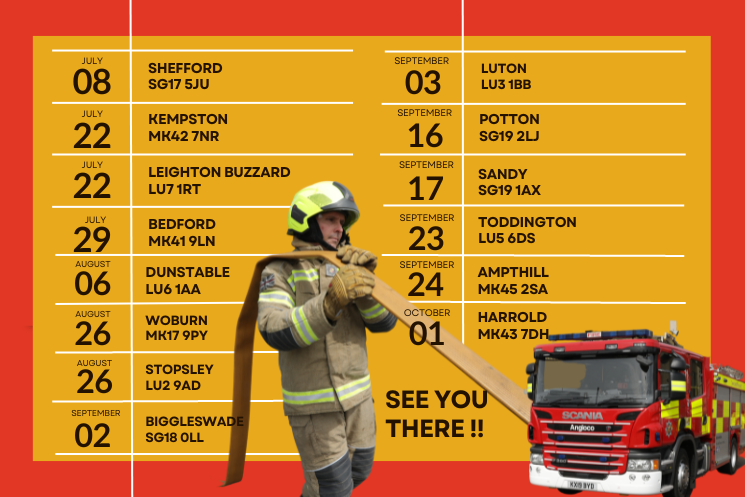 Here are all the dates for your diary of our summer of fire station Open Days!
Head down to your local station to meet the firefighters and fire engines, get involved in all the family activities, chat to BFRS fire safety advisors and enjoy the refreshments. A perfect weekend day out in the summer holidays for the kids, these open days are all-time favourites.
We can't wait to see you there!
Shefford

SG17 5JU

Saturday 8th July
12pm - 4pm

Kempston

MK42 7NR

Saturday 22nd July
1pm - 4pm

Leighton Buzzard

LU7 1RT

Saturday 22nd July
12pm- 4pm

Bedford

MK41 9LN

Saturday 29th July
12pm - 4pm

Dunstable

LU6 1AA

Sunday 6th August
1pm - 4pm

Stopsley

LU2 9AD

Saturday 26th August
12pm - 3pm

Woburn 

MK17 9PY

Saturday 26th August
12pm - 4pm

Biggleswade

SG18 0LL

Saturday 2nd September
10am - 2pm

Luton

LU3 1BB

Sunday 3rd September
12pm-3pm

Sandy

SG19 1AX

Sunday 17th September
TBA

Toddington

LU5 6DS

Saturday 23rd September
12pm-3pm

Ampthill

MK45 2SA

Sunday 24th September
12pm - 3pm

Harrold

MK43 7DH

Sunday 1st October
11.30- 2pm