Stop Speeding for Road Safety Week 2023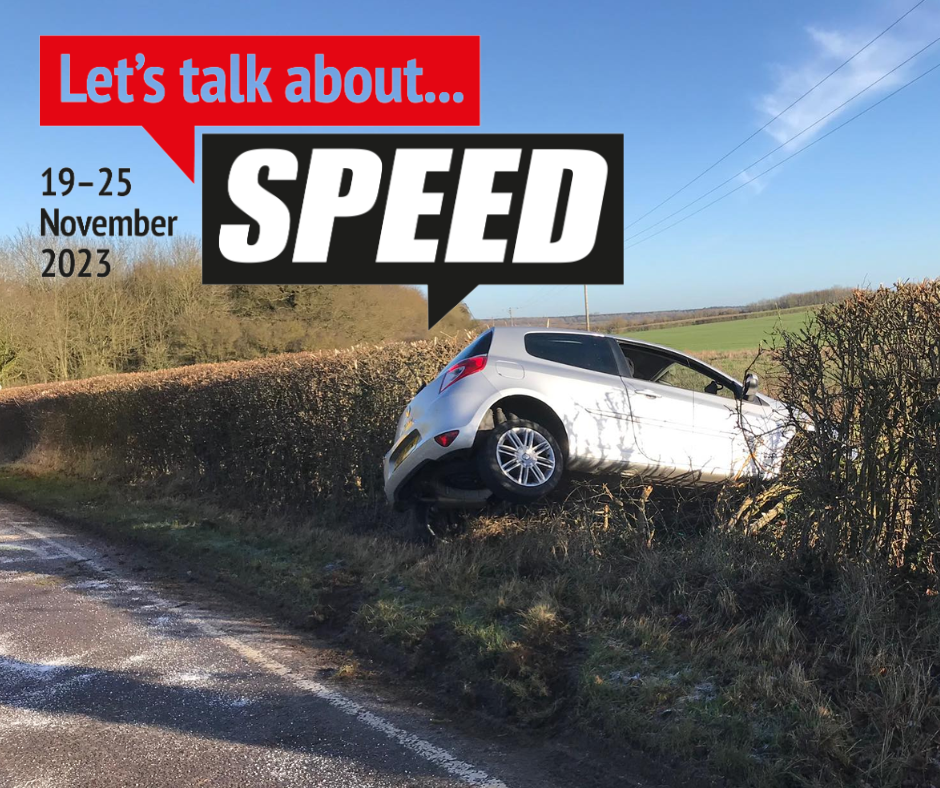 This year, Bedfordshire Fire and Rescue Service are taking part in Brake Road Safety Week, the theme of which is 'speed'. Five people die on UK roads every day.  1 in 4 fatal crashes involve someone driving too fast. We are working alongside Brake to get people talking about speed.
Road crashes are devastating events for the families involved. They hit at the heart of communities and send shock waves across our schools, and the places we live and work. Bedfordshire Fire and Rescue Service have attended 16 fatalities on local roads in the last 2 years, and 71 collisions where there were serious injuries.
Reasons why people might speed include lateness, distraction, being unaware of the speed limit, and many more. On rural roads where cars are moving at higher speeds, there is less time to react, slow down and stop if needed.
Thinking about reducing your speed could save a life. The faster a vehicle is travelling, the longer it takes to stop, and the greater the risk of a crash. Speed and stopping distances don't increase at the same rate. Small increases in speed result in bigger increases in stopping distances.  At higher speeds a driver has less time to react to a hazard on the road ahead of them. A vehicle can travel a long way in the few seconds it takes a driver to notice and react to any danger. Slowing down gives the driver more time to avoid a crash.
Alongside a range of social media messaging that has been supporting the campaign throughout the week, events are being held around the county to engage with groups and people from different communities about road safety. On Wednesday, Kempston Blue Watch headed down to the Interchange retail park to talk to local drivers about staying safe on our roads, the dangers of speeding and to answer any questions. This was a valuable opportunity to capture the attention of local Christmas shoppers and families.
Later that day, the Prevention team travelled to Barnfield College in Luton to engage with students about staying safe on the roads. The students were able to experience the harsh reality of the dangers of speeding and irresponsible driving through the use of virtual reality. They then talked about coping strategies for young people if they feel unsafe as a passenger in a vehicle
On Thursday, the Bedfordshire Road Safety Partnership held a winter car check event at Luton Fire Station, allowing members of the public to attend for free and get their tyres, fluid levels, lights and wipers checked. Being able to host this event alongside our blue light partners allows the public to be reassured and feel supported by the emergency services.
We'd love for you to take part in Road Safety Week with us, by actively considering your speed in built up areas and on rural roads too.