Travelodge used as training venue for cross-border exercise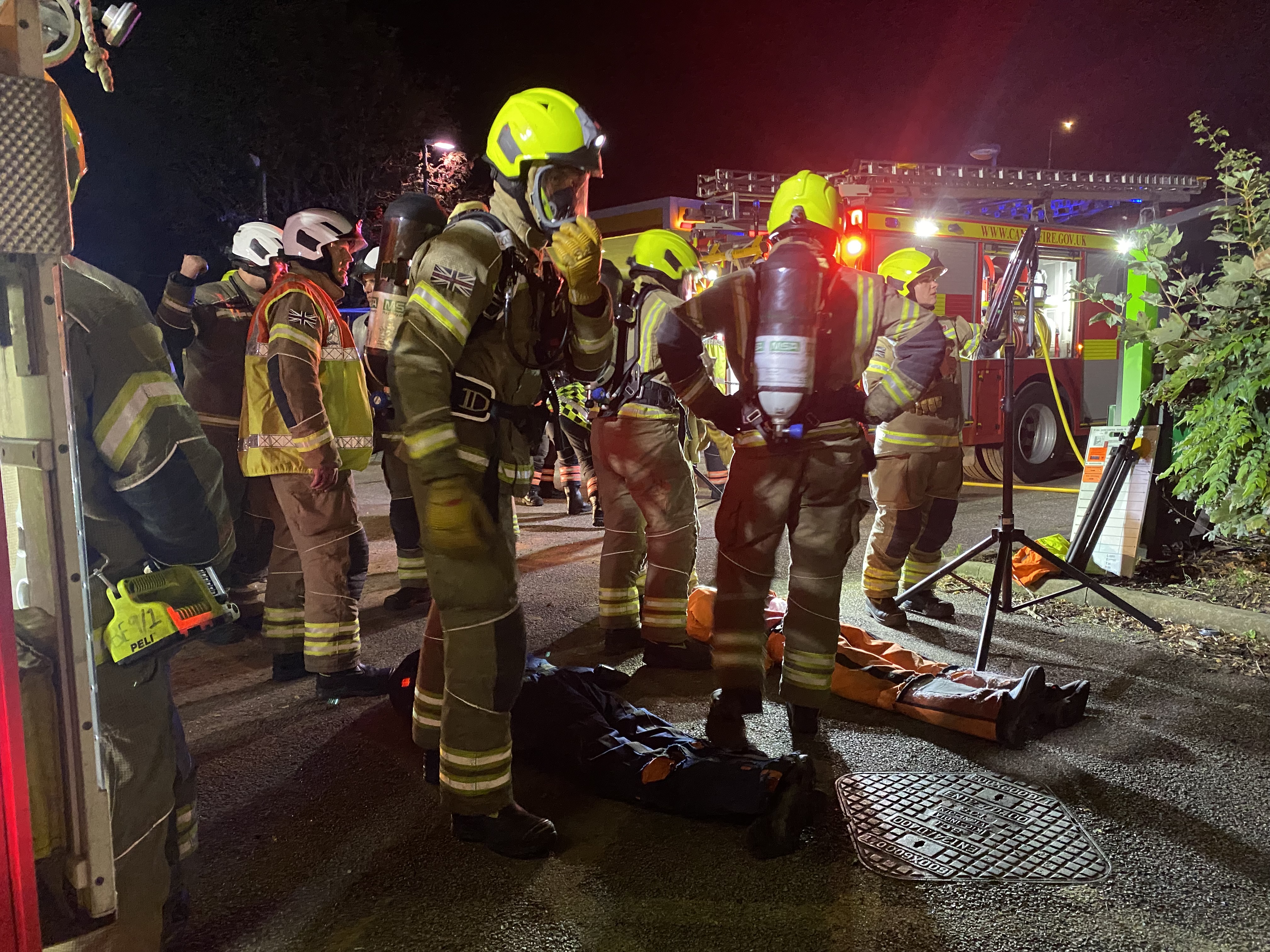 On the evening of Wednesday 4th October, crews from Kempston and Bedford fire stations prepared to perform an exercise alongside colleagues over the border in Cambridgeshire, at the perfect venue. The Travelodge Bedford Wyboston has been permanently closed to allow for road works to begin after their demolition. These road works will include the construction of a new three tier junction at the roundabout which will allow traffic to flow freely on the A1 by travelling under the junction. 
Crews took the opportunity not only to use this derelict hotel for the exercise, but also to try out the brand new MSA Safety breathing apparatus sets. Working alongside Cambridgeshire Fire and Rescue Service, firefighters were able to test the capabilities and functionality of the new breathing apparatus sets in a real-life situation, to get to grips with how they work in a live environment. 
The scenario was as such that the building fire was called into Fire Control as 'persons reported', meaning persons were believed to be inside the building. Most guests were accounted for, but some were still missing. Due to the location of the hotel on the Bedfordshire/Cambridgeshire border, fire engines from both services were mobilised to the incident. 
The opportunity for partnership working alongside Cambridgeshire FRS and Skanska was perfect, and to use a building which is unfamiliar to work in and control, as well as challenging in its nature, was excellent.
Station Commander Matt Hyland said, "Thank you to Watch Commander Watson for organising this exercise, to Skanska for accommodating us and for all the hard work put in by all crews attending. It was a great opportunity to run a cross-border exercise with Cambridgeshire and build on our existing working relationship.  
"Sectors were allocated by floor for Bedfordshire and Cambridgeshire to operate in, and we co-located the Entry Control Points to ensure good communications and shared understanding of progress being made in locating and extinguishing the fire and rescuing multiple casualties. The evening was also a valuable opportunity to train with the new MSA Safety Breathing Apparatus sets to see how the equipment operates and test related Entry Control procedures."