We use electricity every day – whether we're charging our phones, watching TV or washing our laundry, we're tapping into a potentially dangerous source of power.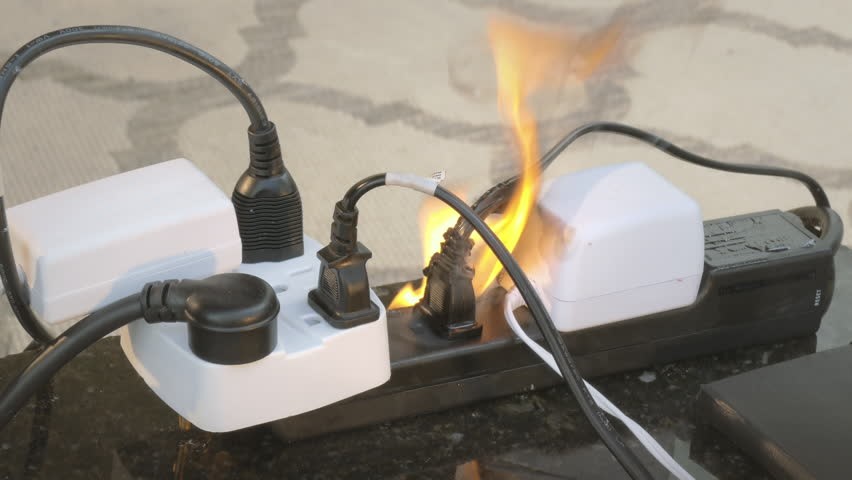 Follow these electrical safety tips:
Don't overload extensions and socket adaptors. One plug socket should only carry a maximum of 13 amps worth of appliances.  High energy appliances like kettles, toasters and microwaves should be plugged directly into the wall socket.
Always check plugs have the right fuses in, keep spares handy;
Always ensure your plugs and sockets are not damaged;
Replace plugs if they show burning or scorch marks;
Check that visible cables and leads are in good condition with no loose wires or fraying;
Check that your light fittings are not visibly damaged and that downlighters are in good working condition;
Do not store combustible materials around your fusebox, electricity meter or electrical intake;
Never run cables under carpets or rugs;
Never take mains-powered electrical items into the  bathroom;
Always switch off your electrical items when they are not in use at the socket.
Microwaves will over heat if table cloths or cookery books are put on top of them or objects are put too close to their air vents.
Don't use appliances at night, if you put your washing machine, tumble dryer, dishwasher or other white goods on while you sleep you'll only know if they catch fire  when a smoke alarm activates (if you have one). Using appliances during the day increases your chances of an early detection of a problem. Don't put them on before you go out either!
Register your appliance
The Register My Appliance web portal, is a safety initiative designed by the Association of Manufacturers of Domestic Appliances (AMDEA).
Why register?
•  Be alerted to any safety repairs or recalls
•  Improve your after sales service
•  Keep in touch with upgrade news
What to register?
You can register all kinds of electrical appliances made by over 60 manufacturers – these include:
Fridges and freezers
Ovens and hobs
Dishwashers
Food-waste disposers
Microwave ovens
Washing machines
Tumble dryers
Small appliances
How to register:
Visit the Register My Appliance web portal.
You can also find out about current product recalls, get advice on caring for your electrical appliances to increase their use and protect them from wear, tear and harm and get other home safety advice.
What are you waiting for? It's quick and easy to register your appliance.
Counterfeit electrical goods
How to spot fake electrical products online
If the price is (almost) right, it's probably fake Some fakes are for sale just below the recommended retail value, hoodwinking shoppers that are too savvy to fall for the 'too good to be true' deals. Make sure you do your homework if you decide to buy products below high street retail prices.
Don't just take the seller's word for it – or the reviewer's! Beware of a product with solely glowing reviews, especially if the reviewers aren't verified. Some sites cross-reference user reviews with their buyer database and label those people as "verified purchasers".
Know where you're buying from Make sure you know where the supplier is based, a 'co.uk' URL doesn't guarantee the website is UK based. If there is no address supplied, or there is just a PO Box, be wary; many fake electrical goods are manufactured overseas, where they will not be safety tested and are produced as quickly and cheaply as possible.
Beware of words qualifying an item's authenticity If the seller claims the product is 'genuine', 'real' or 'authentic' double check the source. Most reputable retailers don't need to sell their products like this.
Spot the lock to pay safely Look for websites that allow you to pay safely – these have a padlock symbol at the bottom of the screen when you are filling in your payment details. If you can't see it, do not enter your payment details.
How to spot if you've bought a fake item
Inspect the packaging and item carefully Look out for the tell-tale signs of flimsy packaging and substandard printing, such as spelling mistakes or grammatical errors. If you're questioning the packaging, compare your item to an online image from a trusted, high street retailer.
Look for a legitimate safety certification label All electrical products will have one or more safety certifications on their label if made by a legitimate manufacturer. If the certification mark is present only on the packaging, but not on the product itself, there's a good chance the product is fake.
Make sure everything that should be there is there Fake products may not include supplementary materials such as a manual or a product registration card or even all the parts!
Check the plug If you've purchased your product from a UK retailer, look to see whether the appliance has a three-pin UK plug or charger.
Trust your instinct – you're probably right If you are still uncertain about your product for any reason, you're probably right to be wary. Visit the high street to compare your product to those on sale in store; if your item varies in any way do not use it.
What to do if you've bought a fake item
Act immediately If you have proof your item is fake, contact the supplier immediately stating your case and demand an explanation; if there has been a mistake made, now is their chance to clarify.
Demand a refund – but stay civil and calm You have the legal right to a refund if you've bought something that's fake. Despite this, it can be difficult if you've made the purchase from an unknown source so be sure to pay with PayPal or your credit card, as your purchase will likely be insured.
If the seller refuses to give you a refund If you are not able to settle the dispute yourself, contact the retailer that manages the marketplace (such as Amazon) as they are able to intervene on your behalf. If they are unable to help, contact the Citizens Advice consumer helpline on 03454 04 05 06 for advice.
Alert other consumers – provide feedback If you can, leave feedback to warn future shoppers about the situation and potential problems, but do stick to the facts and make sure any claims are accurate.
Don't ignore it - report it If you know your product is fake, report it to Trading Standards so that they can take action against the seller; selling fake products is illegal and puts people's lives at risk.
Join the conversation on Twitter with the hashtag #SpotTheFake!
If you suspect a product is dangerous to use, or it if it is a fake copy of a well-known brand, it is illegal. Contact your local trading standards office or Citizens Advice straight away. If you have any suspicions about a product's safety, or if you think it's a fake, don't use it.