People who use emollients and smoke are at greater risk of setting themselves on fire, due to the flammable residue that may be left on clothes, bandages and bedding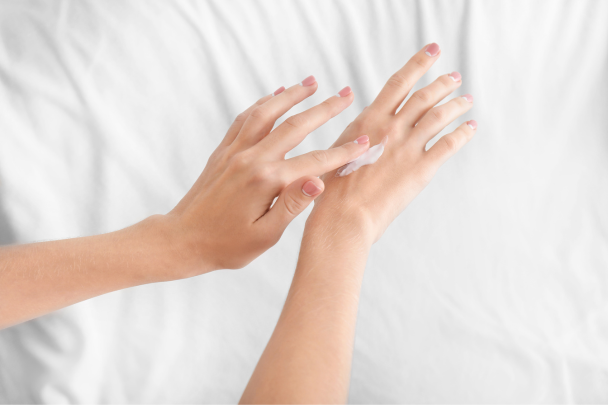 What is an emollient?
Emollients are very effective treatments and you should continue to use them as advised. They are moisturising treatments and are used to treat people of all ages for dry, itchy or scaly skin conditions such as eczema and psoriasis. They are available to buy over-the-counter or by prescription as lotions, sprays, creams, ointments, bath oils and shower products as well as soap substitutes.  
Why you should be careful?
Emollients are not flammable in themselves, however, regular use of these products especially when applying to large areas of your body, can lead to them drying onto your clothing, bedding and bandages/dressings leaving a flammable residue. If you then introduce an ignition or heat source such as 
Accidentally dropping a cigarette, lighted match or lighter 

Sitting too near to a gas, halogen or open fire 

Catching your clothing on a hob when cooking 
This can cause a fire to develop. The fire will burn very intensely, spread within seconds and could lead to serious injury or death. 
What you should do if your clothes catch fire?
If you can, you should:
DROP – get down on the floor 

ROLL – roll on the floor to extinguish the flames 
DON'T:
Don't smoke or allow others to smoke near you if there is any chance your clothing, dressings or bedding could be contaminated with emollient. Never smoke in bed. 

Don't cook if there is any chance your clothing or dressings could be contaminated with these products. Don't wear loose clothing when cooking. 
Don't sit too close to any open fires, gas fires or halogen heaters. 

Don't let any emollient residue build-up on your soft furnishings – use throws to cover them. 
DO:
Do read the warnings on your product packaging and tell your family and carers so that they can help keep you safe. 

Do try to stop smoking - ask your doctor, nurse or pharmacist for smoking cessation support. 
Do tell your healthcare professional or carer if there is a change in your medical or health condition which might compromise your fire safety within your home. For instance, if you are prescribed medication that cause drowsiness, your mobility declines significantly, or you experience memory issues. 

Do share this information and advice with your family and friends. 
Wash your clothing and bedding frequently at the highest temperature recommended by the fabric care instructions. This should reduce some of the contamination but may not remove it completely so that the risk remains. 
Know the Fire Risk of Emollient Creams
Remember, clothing with skin cream dried on can catch fire easily.