If there is a fire in your home every second counts when escaping from your property. Having working smoke alarms and knowing the escape plan in an emergency could make all the difference.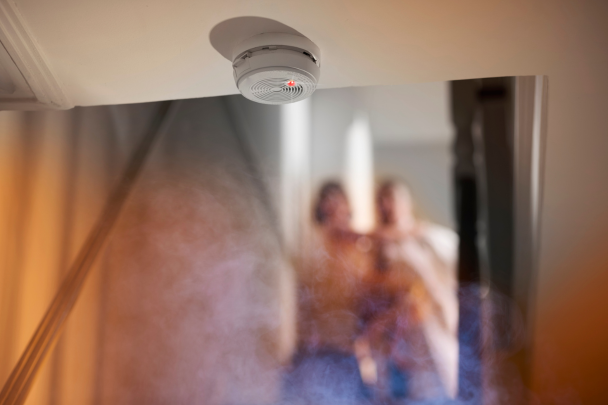 If you live in a house:
Make sure you're always prepared, your exits are clear and everyone knows what to do if the worst should happen.
The best escape route is often the normal way in and out of your home.
Think of any difficulties you may have getting out, for example, at night you may need a torch to light your way.
Choose an alternative escape route, in case the first one is blocked.
If your household has children, older or disabled people or pets in it, plan how you will get them out.
Decide where the keys to doors and windows should be kept and always keep them there. Make sure everyone in your household knows where they are.
Think about a safe place to go if you can't escape.
So stay safe by thinking ahead and plan your escape routes now.
If your escape route is blocked or you are trapped by fire:
If you can't get out, get everyone into one room, ideally with a window and a phone.
Put bedding around the bottom of the door to block out the smoke, then open the window and call "HELP FIRE". 
If you're on the ground or first floor, you may be able to escape through a window.
Use bedding to cushion your fall and lower yourself down carefully.  Don't jump. 
If you can't open the window, break the glass in the bottom corner.  Make jagged edges safe with a towel or blanket. 
If you live in a flat:
Blocks of flats are normally built in a way to prevent fires spreading from one flat to another, or to the communal areas.  Therefore, if there is a fire in another part of your block it is usually best to stay in your flat. This is known as 'stay put'.
Ask your landlord what evacuation strategy applies to your block so you know what to do should a fire occur in someone else's flat – it may be that you should stay put, or that you should evacuate the building. 
If you live in high rise building:
Since the Grenfell Tower tragedy in 2017 Bedfordshire Fire and Rescue Service have inspected over one hundred high rise buildings across the county to ensure they are safe.
There are plenty of things you can do to ensure you're safe and to prevent a fire from starting. 
Smoke detectors. Ensure you have at least one working smoke detector on every floor in your property. Press the test button at least every month.  For flats or properties with one level, it should be positioned in the hallway between the bedrooms and exit. NEVER take the batteries out, if it bleeps change the batteries or get a new one.
Escape plan. Make sure you and your family know what to do in case of fire, including being aware of your building's evacuation plan and escape routes. Keep communal escape routes and those in your home clear so you can get out and firefighters can get in. Keep door and window keys in an easily accessible place.
Have an emergency kit ready. Prepare a grab bag that you can take if you need to be evacuated. Think about prescription medicines, documents such as your driving licence and passport, spare keys, a mobile phone, charger and a torch. More details here.
Safety notices for home appliances – register your appliances to get any important safety notices or to check if your products are subject to a product recall. You can still register old appliances and get updates. Don't ignore any safety notices, particularly where they relate to a fire safety risk.
Keep control of flammable materials and ignition sources (like matches or hot surfaces). Keep matches and lighters safe and secure, turning off your hob or oven after use, and making sure cigarettes are fully extinguished before putting them in the bin or rubbish chute.
Keep fire doors shut. Make sure fire doors aren't wedged open. Raise any concerns with the building management if they are damaged.
Who are your neighbours?  Are they young, elderly or vulnerable? They may need assistance in an emergency.