Hoarding and Petrol Storage
Storing too many possessions in and around your home can increase the chance of a fire breaking out and intensify the ferocity of the flames.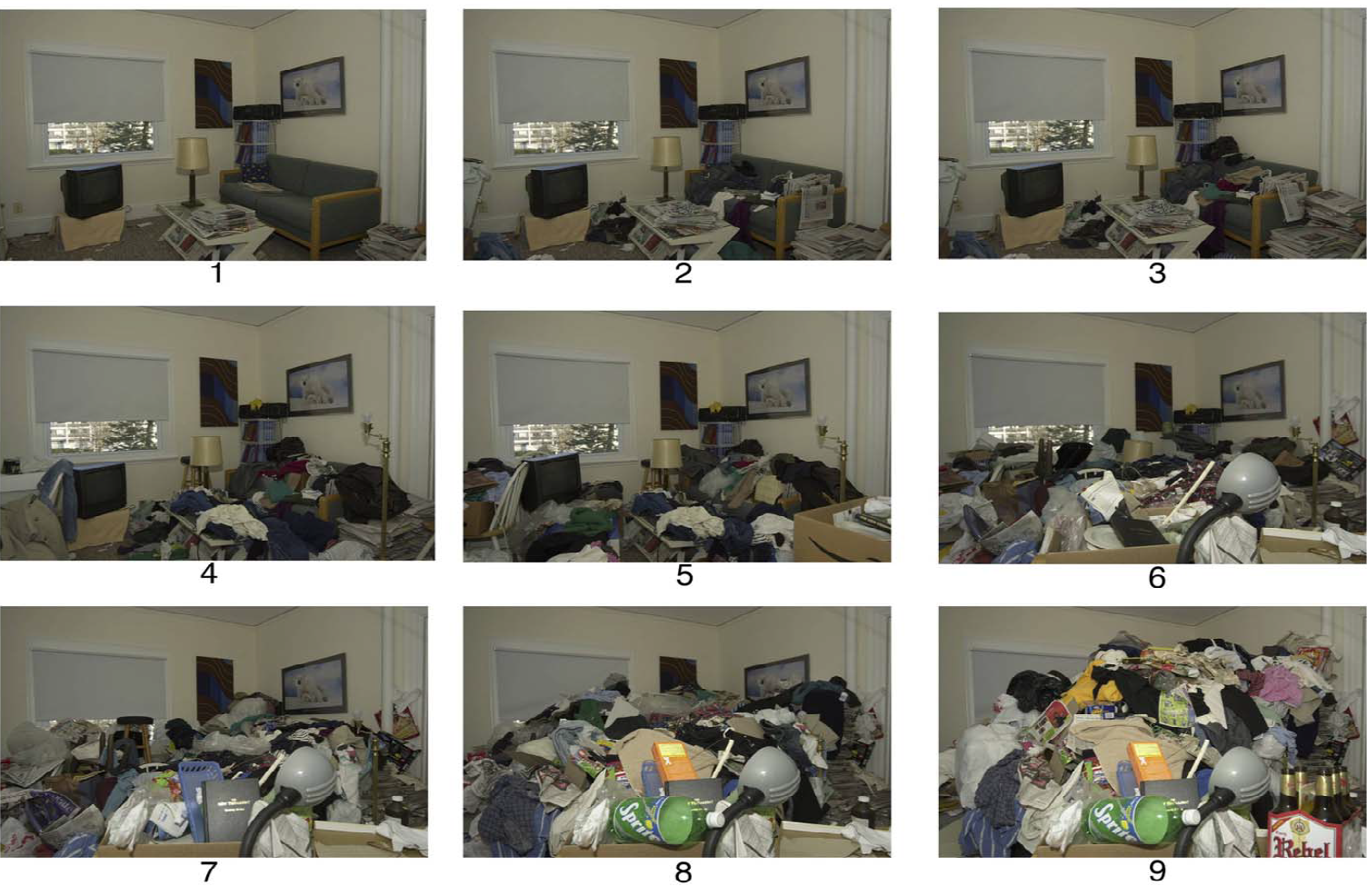 Which picture looks most like your home?
In general, clutter that reaches the level of picture 4 or higher impinges enough on people's lives that we would encourage them to get help for their hoarding problem.
Follow these tips to help you reduce risks in your home
The clutter caused by hoarding can seriously reduce your chance of escaping from your home during a fire and may make it more difficult to rescue you. It also increases the risk to Firefighters who enter the property to fight the fire.
Hoarding also increases the risk of slips and trips and someone being trapped by falling items. Furniture and ceilings could even collapse under the extra weight piled upon them.
The more possessions you have the more there is to burn.  Reduce what you have as part of a regular clearance session;
Be careful when using fan or gas heaters, never leave them unattended or close to anything flammable;
Leave space around microwave ovens, or any appliance with an air vent, to allow air to circulate;
Ensure you have working smoke alarms, test them once a week. Every second counts – the earlier you are warned the more chance you have of surviving;
Keep cooking areas clean and tidy;
Always have clear entrances, exits and pathways to your home that you can easily pass through without the need to move anything out of the way;
Always know where your door and window keys are – keep in a safe accessible place;
Items in your home should be fixed securely – they can become dislodged easily causing additional dangers;
Recyclable packages should be recycled;
Eliminate possible sources of ignition;
Extinguish cigarettes properly using an ash tray.
Never leave candles unattended – always put them in a heat resistant holder.  Keep them away from anything  flammable.  As an alternative to conventional candles try a battery operated candle;
Petrol storage
Keep any storage of petrol on domestic or businesses premises to a minimum and please follow this advice to avoid fires and explosions.
Petrol is an extremely flammable liquid with a vapour that will ignite with contact from a naked flame, a spark from an electrical or mechanical source or even from a spark caused by 'static' such as can occur when removing clothing made out of certain fabrics.
Members of the public can only store up to maximum of 30 litres of petrol without having to informing your local Petroleum Enforcement Authority (PEA). To find your local PEA using this link.
Follow this advice to stay safe around petrol and other fuels.
If you must store petrol, do so in a place that is not part of, or attached to part of a building where people live and sleep;
Petrol must be stored in approved plastic or metal containers of the sort that can typically be purchased from filling stations;
Do not fill any container more than the capacity printed on the label;
Even with these guidelines, the best advice is do not stock-pile fuel of any description - the risks are just not worth it.
Further information on some of the legal aspects of petrol storage can be found in Bedfordshire Fire and Rescue Service Fire Safety Guidance Notes 39 and 40, see below.
For further advice on safe petrol storage please see the Health and Safety Executive guidance.