If you're in trouble in water
If you get into trouble in the in the water, Float to Live. Lean back and use your arms and legs to help you float, then get control of your breathing before calling for help or swimming to safety. If you see someone else in trouble in the water, Call 999.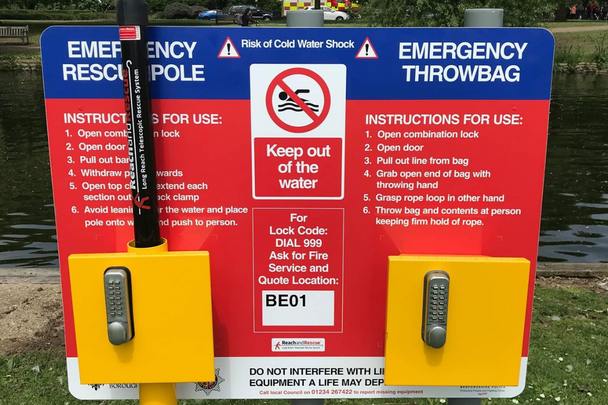 Float to Live
Fight your instinct to thrash around.
Lean back, extend your arms and legs.
If you need to, gently move them around to help you float.
Float until you can control your breathing.
Only then, call for help, swim to safety or continue floating until help arrives.
Always keep alert around water!
Stay together!
Someone in trouble in water? Call 999 for the Fire Service
Call 999
Ask for the Fire Service for rivers, lakes and reservoirs.
Ask for the coastguard for coastal areas, seaside and the River Thames.
Don't be tempted to go in. The water might be cold, which will limit your ability to swim and may cause cold water shock.
Shout and encourage them to float on their back. Let them know that help is on the way.
Find a rescue aid. Look for a life ring, throw line or reach pole. If there is no public rescue aid equipment, throw anything that will float.
Safe rescue. Before pulling someone out of the water, get down on one knee or lie down so you don't fall in. 
Keep sight of the casualty to help the emergency services locate them quicker.
Understand the dangers
Cold water shock - your body's instinctive reaction to cold water causing your heart to beat faster and you to "gasp" for breathe which can cause you to breathe in water and not air. This causes you to panic, making it difficult to stay above the water and to prevent taking further deep breaths when underwater.
Dangers under the water include rubbish or weeds that ensnare your feet and make it hard for you to swim, causing you to drown.
Hidden currents can easily knock a grown adult off their feet or drag them under the water's surface.
Steep or slippery banks make it difficult to leave the water, especially if you're tired.
Alcohol and drugs will affect your perception of your own abilities and greatly impair them and your motor skills making it difficult to swim.
Polluted water which if swallowed  would have adverse affects upon your health later on.
Over confidence - don't assume that because you can swim in a swimming pool you can cope with the challenges of open water. There are no lifeguards to help if you get into trouble!!!
In Bedfordshire in recent years there have been a number of deaths in rivers and open water. It may seem tempting to go for a swim in rivers, lakes and ponds, especially in the summer months, but there are hidden dangers which can catch even the strongest of swimmers off guard. Not all deaths have occurred in the summer however. It can be just as dangers to walk alongside a river during the winter, especially if you've had a drink.