In an emergency identifying a caller's exact location is incredibly important. But sometimes there is no easily identifiable landmark, address or postcode to establish exactly where an incident is taking place and this can result in valuable minutes being lost.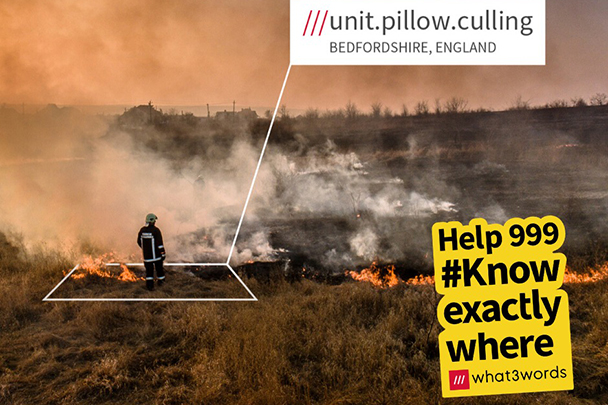 How it works
The What3Words App enables the caller and the emergency services to quickly pinpoint where they are and where an incident is taking place. This means that no matter where they are – in a field or roadside in the countryside, by a river bank or just outside one of a shopping mail's multiple entrances– we can dispatch a fire crew to their precise location to fight a field fire, rescue someone from the water or rescue people trapped by a road traffic collision.
What3Words has divided the world into 3m x 3m squares and each has been given a unique three word address which lets anyone give their exact location simply by using these three words.
For example Bedfordshire Fire and Rescue Service's headquarters in Kempston gives you the three words "cheese.books.delay" while Luton Community Fire Station in Studley Road gives you "backed.usage.forces". If you are by the river bank in Bedford and see someone in the water rather than say you are near the war memorial, you can give an exact location such as "patch.rally.icons" and if you are outside The Mall, Luton but don't know which entrance you're at you can find out you are at "clubs.stay.winter".
What3Words recently helped the emergency services quickly locate a man who was in the Great River Ouse, Bedfordshire. As a result, he received medical attention as swiftly as possible.
Download for free
What3Words is free-to-use and available as an app and on the What3Words website. Download it to your phone today so you are ready to use it in an emergency.
Why not download it and give it a try – what three words stand for your home (each room will have a different one). Why not find out the locations of nearby locations where you go for a walk so you can save their locations in case you need them in the future.