Promotion Gateway
Area Manager
If you are looking for a leadership opportunity in a fire and rescue service with a great reputation and a strong track record of visible leadership and delivering positive outcomes for our communities then Bedfordshire could be for you. Join our Service, to play a vital role building upon our successes to date and striving to deliver on our Mission working together to keep Bedfordshire safe.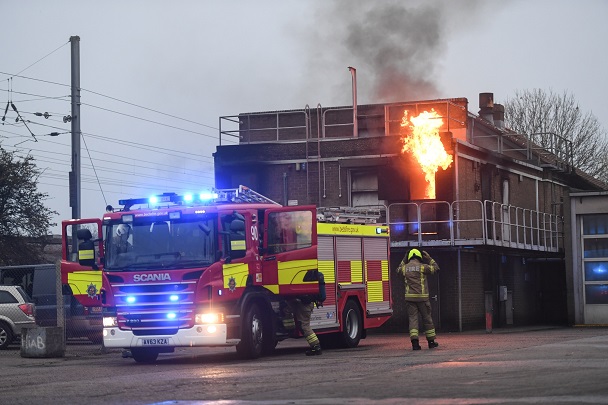 The service is seeking to expand our Area Manager talent pool for potential vacancies arising. This is an exciting time to be joining our senior team, who will help shape and deliver on our ambitious plans for the future. As part of our succession planning, the Service is opening a gateway process for Area Manager and are inviting applications to create a talent pool eligible for temporary or substantive appointment to Area Manager vacancies available now and expected to arise over the next 6-12 months.
There has never been a better time to join us.
Salary
Area Manager B: £63,163 (dev) - £69,283 plus 20% FDS allowance, plus locally agreed £12k ARA for Strategic Operational Commander role.
We welcome applications from
Substantive Area Managers serving with a UK Fire Authority fire and rescue service

Substantive and fully competent Group Managers with a minimum of 12 months experience in role, serving with a local authority fire and rescue service

Personnel that have passed the BFRS Group Manager promotion gateway and hold a place in the GM talent pool or serving in a GM role (internal applicants only)
Applicants must be assessed as competent to operate as an ICL3 Advanced Incident Commander, with proven relevant experience managing operational incidents at this level.  They must be able to demonstrate experience of operating effectively at strategic level,and have a track record of achievement.
Internal applicants meeting the eligibility criteria to apply, that do not currently meet the full criteria for the AM role, may still be shortlisted and be eligible to join a development pool if successful at gateway.
Candidates who have a live disciplinary sanction for either Attendance or Conduct at the time of the application closing date will not normally be eligible to engage in the selection process.
When submitting an application it is the individual's responsibility to declare the need for any reasonable adjustments in respect of the process. All requests for reasonable adjustments will be accommodated where possible upon receipt of a report outlining the specific nature of the requirements.
You will lead, develop and support the Service in delivering on its Mission working together to keep Bedfordshire safe.
You will demonstrate excellent leadership qualities that align with the NFCC Leadership Framework, professional behaviours and our Service Values:
We are Accountable

We've got your Back

Every Contact counts

We Dare to be Different. 
The Service is seeking dynamic individuals, with visionary leadership and the capability to make things happen. The role will be responsible for strategic planning, direction and guidance to ensure the Service's vision, values and objectives are achieved.
To be successful, you will have a thorough understanding of the challenges faced by the Service and the Sector locally, regionally and nationally.  You will possess high levels of resilience, and demonstrate exceptional experience in leading and motivating diverse teams and services.
The role requires sound knowledge and experience of fire and rescue service delivery, operational command at all levels, integrated risk management planning, business, financial and succession planning, performance and people management and partnership working.
With a proven track record of leading teams managing performance, underpinned by a well-developed strategic awareness, you will enable the effective design and delivery of strategic objectives. Our Area Managers will need the ability to operate as a Project Executive working across a range of internal and external programmes, delivering through and investing in our people as we work together to promote and develop a positive and inclusive culture that strives to be a collaborative partner and employer of choice.
You will have the ability to challenge, promote and advance equality and diversity and inclusion, and build a positive culture for a forward thinking Service. As a member of the Corporate Management Team, you will add value to evidence based strategic decision making, enabling supportive and effective working relationships across the senior team, staff and their rep bodies, elected members as well as external partners and stakeholders.
Strategic Operational Commander Duties
The role is conditioned to a locally agreed Flexible Duty System (FDS) and the postholder will need to provide a suitable cover base location agreed with the Chief Fire Officer when on call. Basic salary £63,163 (dev) - £69,283 plus 20% FDS allowance.  There is an additional payment of £12,467 per annum for carrying out Strategic Operational Commander (SOC) duties.
The SOC Rota System is based on a six week cycle and will include responding to operational incidents outside of the County of Bedfordshire, as part of a shared operational strategic command rota with Cambridgeshire Fire and Rescue Service (CFRS). The shared rota is designed to ensure that there will be one Area Manager from BFRS and one from CFRS on duty at all times. On each day the rota pattern will roster one SOC to be on Primary Operational Cover duty ('P' duty) and one SOC to be on Secondary Operational Cover duty ('S' duty). Primary Operational Cover means that the officer will be immediately available to respond to operational incidents across both Authorities areas, within one hour from both BFRS and CFRS headquarters. Secondary Operational Cover duty means that the officer will be available for operational duty upon four hours' notice, as required (to facilitate the demands of protracted large scale incidents including operational command and rest/relief requirements).
Relocation assistance may be available to successful candidates (details available on request).