Bedfordshire Fire and Rescue Authority
Bedfordshire Fire and Rescue Authority (the Authority) is the statutory body established by the Fire and Rescue Services Act 2004 which sets the overall strategic direction of the Bedfordshire Fire and Rescue Service, approving its budget, promoting its core values, and holding the Chief Fire Officer to account, ensuring the Service is delivered effectively, efficiently and provides value for money. The Authority comprises twelve elected councillors, known as Members, appointed from each of the three unitary authorities, whose numbers are proportional to the populations they represent. Three are from Bedford Borough Council, five from Central Bedfordshire Council and four from Luton Borough Council.
Once appointed to the Authority, Members represent the whole community, not just the area they serve as a local councillor. They serve as a valuable link between communities and the Fire and Rescue Service.
Bedfordshire Fire and Rescue Service
We provide services from 14 fire stations and have a Fire Control mobilising centre at our headquarters site at Kempston which also hosts our training centre and technical services hub.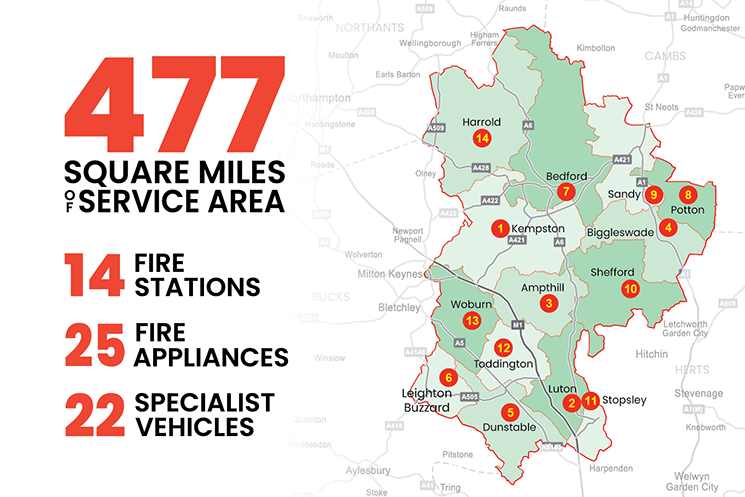 We operate a range of duty systems to ensure we have the right number of firefighters available at the right time and place to respond to emergencies. Duty systems include:
24-hour shift which gives immediate 24-hour response using full-time firefighters

Day-crewing giving immediate daytime response using full-time firefighters Monday to Friday with an on-call firefighter response at night and weekends

On-call firefighters providing a response within five to six minutes
Our fleet includes 25 fire appliances, 22 specialist vehicles, 35 vans, 23 cars and 2 welfare units.
Our aims
Prevent.
Protect.
Respond.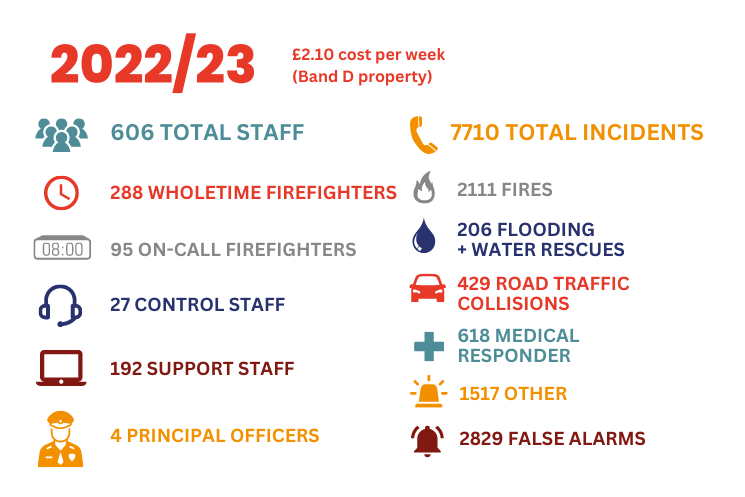 We work to PREVENT fires and other emergencies from occurring. Our firefighters and other front-line staff undertake home fire safety visits each year, carry out safety talks in schools, and work with partners to inform our communities about fire and road safety.
We work to PROTECT people when emergencies do happen. Our firefighters and fire safety officers undertake inspections of workplaces, engaging with and educating owners and occupiers, taking enforcement action where necessary.
We RESPOND to emergencies including fires, road traffic collisions, air and rail crashes, water rescues and flooding, hazardous chemical incidents, and many other types of emergencies. Our firefighters regularly train, maintain and test equipment to ensure they always remain operationally ready to respond to emergencies. We also work closely with our partners such as Bedfordshire Police, the East of England Ambulance Service, local councils and our neighbouring fire and rescue services to make sure we can respond effectively and competently to any emergency.