Summary of our Community Risk Analysis 2022
Our county and communities
Bedfordshire comprises three unitary authority areas
Bedfordshire occupies a geographically central position and is part of the Eastern region within the UK. Bordering four other counties and covering an area of 1,234 km2 (476.94 mi2). Bedfordshire is largely rural and agricultural, including areas of outstanding natural beauty.
Authorities:
Bedford Borough: 476.4km² (183.9 mi2)
Central Bedfordshire: 715.7km² (276.3 mi2)
Luton Borough: 43.35km² (16.74 mi2)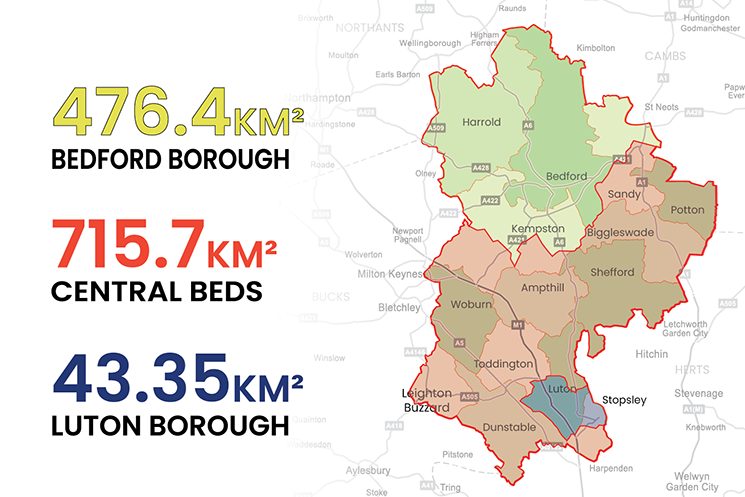 Over 70% of the ethnically diverse population live in its larger towns including the two major towns of Luton and Bedford, and in several smaller market towns. These towns lie within often picturesque rural settings which also includes many villages that add to the areas diversity of places to live, work and play.
Over recent years the local economy, like many throughout the UK, has moved from traditional manufacturing and heavy industry to one based more upon the service industry. These industries include logistics and air transport, higher education, research and development, tourism and hospitality, creative and cultural businesses, construction, and business services. Bedfordshire is growing as a national distribution hub and has several large industrial sites and warehouses.
The county has two successful universities; the post-graduate Cranfield University, and the University of Bedfordshire, together with strongly performing further education colleges based in Bedford, Luton, and Dunstable. There are several significant and internationally linked research locations at these universities and at Colworth Science Park, Cranfield Technology Park, and the Millbrook Vehicle Proving Ground.
Within our area we have a significant stock of heritage buildings and environmental sites of special interest. Countywide rivers present us with special problems during spate flooding conditions. There are also iconic visitor attractions in the county, such as Woburn Safari Park, Whipsnade Zoo and CenterParc's fifth UK village at Woburn.
There are major growth plans that will see over 78,000 new homes built across Bedfordshire in the next decade or so, along with continued expansion in the number of industrial and commercial sites that will create an extra 53,400 jobs. The road, rail and waterway infrastructure include the M1 and A1 main arterial roads, and three major rail routes, including Thameslink, one of the busiest commuter rail links in the country running south from Bedford to London and beyond. London Luton Airport, which already handles circa 18 million passengers a year, is also expanding to accommodate this growth with a plan to deliver 32 million by 2039 including the opening of the new mass transit system in 2023 to help achieve this.
The five counties around the line between Oxford, Milton Keynes and Cambridge are known as the Oxford-Cambridge Arc. The area comprises Bedfordshire, Buckinghamshire, Cambridgeshire, Northamptonshire, and Oxfordshire. The arc has one of the fastest-growing economies in England. It supports more than two million jobs and adds over £110 billion to the economy every year.